Welcome to Spahaus, your luxury private cabin retreat nestled in the heart of the stunning Laurentian Mountains, just a short distance from Mont Tremblant. We are thrilled to have you as our guest and want to ensure that your stay with us is an unforgettable experience.
Guests may self-check in upon arrival after 16h00, please park your car in the designated area and walk past the Flo electrical car charging station, along the path you will see the front door. The key can be found within the lockbox to the left of the entrance door. 
Note: the key must stay in the lockbox if you choose to leave the premises.
Spahaus is a fully equipped luxury cabin, complete with all the modern amenities to make your stay as comfortable as possible. Our cabin features a state-of-the-art kitchen, high-speed internet, a cozy gas fireplace, a beautiful surround sound system, a sauna and a private outdoor hot tub, perfect for soaking after a long day of activities. A BBQ gas grill on the patio, allows you to cook and enjoy meals outside while taking advantage of the beautiful surroundings.
The chalet features three comfortable bedrooms with high-quality mattresses and linens. Two of the bedrooms are located upstairs, one with a king-sized bed and the other with a queen-sized bed. The third bedroom is located on the ground floor and features a bunk bed with queen-sized mattresses, making it ideal for families or groups of friends.
The chalet has two bathrooms and both are completely equipped with complimentary body wash, shampoo, conditioner and fluffy towels. The first bathroom is located upstairs and features a walk-in shower. The second bathroom is located on the ground floor and features a bathtub. A hair dryer is also available in both bathrooms.
Bath towels, striped beach towels, and linen are provided for the maximum capacity (6 persons). You may exchange your towels and linen by contacting property management. 
Do not wash bath towels and bedroom linens; housekeeping will charge replacement fees if they are found to be self-washed.
Upon the need to throw away additional garbage, a large garbage area is available north of the Spahaus on Chem. de la Fraternité.
On the day of your departure, please check out by 10h00. As you prepare for your leave, below are a few quick reminders:
Kitchen

: Clean all dirty dishes and put away dishes

Garbage

: Throw away garbage

Sauna:

Ensure water container and spoon is inside the Spahaus by the sliding door and ensure the master kill switch (labeled sauna) in the kitchen is turned off.

Jacuzzi:

Pour one scoop of cleaning solution into the Jacuzzi

Club de la Pointe:

Leave all (6) blue wristbands on the dining table

Bedrooms and Bathrooms

: Ensure you gather all of your belongings
Keys: Lock the Spahaus and leave the keys in the lockbox
Thank you for choosing Spahaus for your luxury chalet retreat. We hope you have an unforgettable stay and look forward to welcoming you back in the future.
There's no shortage of activities to enjoy in the surrounding area. Take advantage of the beautiful surroundings and explore the hiking trails, go skiing or snowshoeing in the winter months, or go on a scenic drive through the mountains. 
Additionally, there are many nearby restaurants, cafes, and shops to explore, or you can choose to stay in and cook a gourmet meal in the cabin's fully equipped kitchen.
If you're looking for even more activities, you'll be pleased to know that Spahaus offers exclusive access to Club de la Pointe, one of the most diversified playgrounds in Eastern Canada, offering an abundance of activities all year round including the gym.
In the winter, the Club offers access to an ice rink, and yoga at the gym on Saturdays. In the summer, enjoy access to pétanque, lakeview social pods, a dock, tennis courts, beach volleyball courts, nautical equipment, and a pool. 
Note: Some of these amenities have specific hours and that the nautical equipment is closed when the water temperature is under 15 degrees Celsius.
Learn more about Spahaus
Spahaus Features
We want to ensure that you have a safe and enjoyable stay at our luxury private cabin. As such, we would like to provide you with some important information on our features, amenities, and safety.
The cottage utilizes well water with basic carbon filters through the fridge. The property has a robust water purification system (UV filter, sediment filter, and chlorination) which allows for safe and potable drinking water. While most guests happily enjoy drinking the water with meals just as they do while brushing teeth and during showers, some guests may opt to bring their own bottled/filtered water for regular consumption as rural water away from home can have the potential to disagree with our bodies. We support whatever your choice may be. The mineral content in the water is high, so you may notice the water having a slight tint at times.
How to use the Jacuzzi
Open the Jacuzzi and go in.

Press the button and activate the cover to close the Jacuzzi.
The water is at the average temperature of 100 F.
After use, put one scoop of the boost powder that is located by the Spahaus.
Jacuzzi Safety Rules
Shower with soap and water before you come in.

Enter and exit the Hot Tub slowly.

Please no jumping or diving.

Do not bring glass in or near the Hot Tub.

Do not use alcohol, narcotics, or medications.

Elderly persons must consult doctor before use.

Pregnant women should consult doctor before use.

Children must be supervised by an adult.

Do not enter if temperature is over 104" Fahrenheit.

Limit your soak to 15 minutes, and cool off before re-entry.

Anyone with heart disease, diabetes, high or low blood pressure or any serious illness should consult with doctor before entering the Hot Tub.

Please replace Spa cover after each use.

Please do not sit or lie down on the cover.

Please turn off high jets after use.

Please do not use soaps or oils in the Jacuzzi.

Max capacity of six people.
How to use on the Sauna
Turn on the switch in the Spahaus (master switch)

In the sauna, you will see two knobs underneath the heater. Turn the second knob (closest to the door) clockwise, past the first 1 to number 2 or

Then turn backward to the large 1 until a click is heard.

Allow at least 30 minutes for room to heat up.

Enjoy!
Note: The heater will automatically turn off after 60 minutes.
How to create a Nordic wet sauna
Grab the wooden bucket and wooden ladle from the Spahaus common area.

Add fresh water only into the wooden bucket.

Use the wooden ladle and fill it with one scoop full of fresh water.

Pour onto the rocks.

Enjoy!

After use: empty the wooden bucket and bring it back inside the Spahaus to dry.
Note: You must not pour more than one scoop full of fresh water at a time.
Sauna Safety Rules
Exit immediately if uncomfortable, dizzy, or sleepy.

Supervise children at all times.

Check with a doctor before use if pregnant, in poor health or under medical care.

Breathing heated air in conjunction with consumption of alcohol, drugs or medication may cause unconsciousness.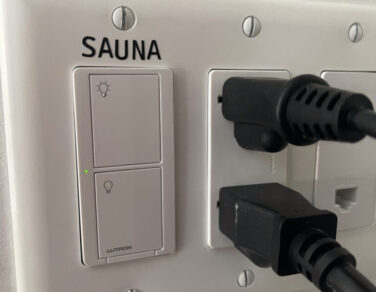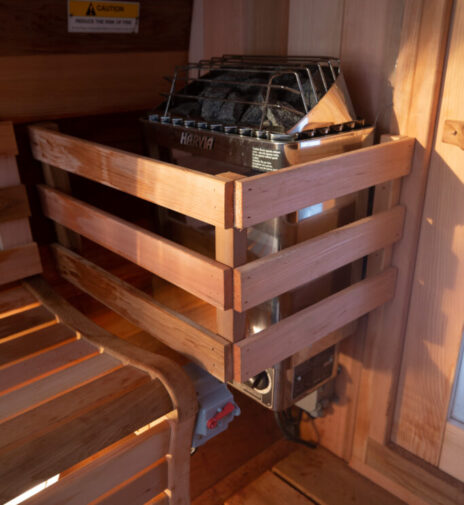 Open valve, start ignitor, turn off after use and clean.
The television is a smart TV and includes various trending applications during your stay. However, you will need your own login accounts for specific apps.
Sonos Surround Sound System
Spahaus includes Sonos, a wireless surround sound system, throughout the inside of the facility. You may enable Amazon Alexa to utilize the Sonos and Television. Sonos may select specific areas in the Spahaus for music such as living room, bedroom 1, and bedroom 2.
Note: Quebec has quiet hours between 21:00 and 08:00.
Spahaus Amenities
Kitchen amenities
Our kitchen is stocked with all the essentials to enhance your experience. Some equipment available include:
Pots and pans

Kitchen utensils

Cooking utensils

Tupperware

Placemats

Fridge/Freezer with ice maker

Microwave

Dishwasher

Rice cooker

Nespresso Vertuo Machine (limited pods available)
Spahaus includes a 24 "tall tub, top control dishwasher with several features including, touch control direct access, 8 programs, 5 functions, and full size 3rd rack.
Kindly note, there is a limited supply of household cleaning products.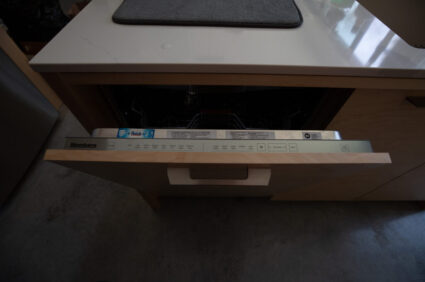 Spahaus includes a Whirlpool washer and dryer onsite for your personal use and includes a limited supply of household cleaning products in the laundry room. As part of your stay, you will be provided with bedding, bath towels, beach towels, hand towels and kitchen towels. All towels need to be returned upon checkout and should be used with care. 
DO NOT: Put Bath towels and linens in the washroom. 
Please note: Bath towels and linens MUST NOT be washed.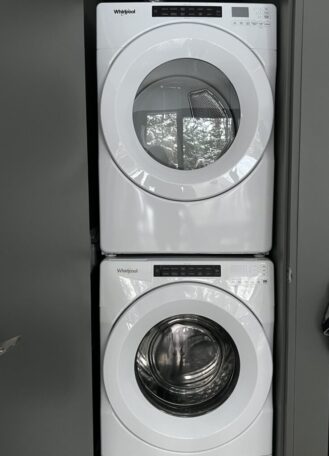 There are surveillance cameras installed outside of the property. These cameras are for security purposes and are meant to deter any potential intruders. We value your privacy and want to assure you that these cameras only monitor the exterior of the property.
Additionally, we have installed carbon monoxide alarms and smoke alarms throughout the cabin. Carbon monoxide is a colorless and odorless gas that can be lethal if not detected, and smoke alarms are essential in case of a fire. Please be sure to familiarize yourself with the location of these alarms and what to do if they go off.
Lastly, we have provided a fire extinguisher in the cabin in case of a fire. It is important to know  the fire extinguisher is located in the hall closet and how to use it in case of an emergency.
We hope that this information gives you peace of mind and helps you to have a safe and comfortable stay. If you have any questions or concerns, please do not hesitate to contact us.